Jerusalem House of Quality
The Jerusalem House of Quality is a non-profit organization center for the creation and exhibition of unique Jerusalem art. Thirty-five "House of Quality" artists do their creative work in workshops throughout the building.
We aim to promote a high-quality community of artists in the various fields of the applied arts including ceramics, copper art (chiseling and sculpting), contemporary Judaica, glass art (stained glass, glass sculpting, mosaics).
A gallery is open to the public and hosts works by Jerusalem artists and also cooperates with international bodies and Jerusalem artists.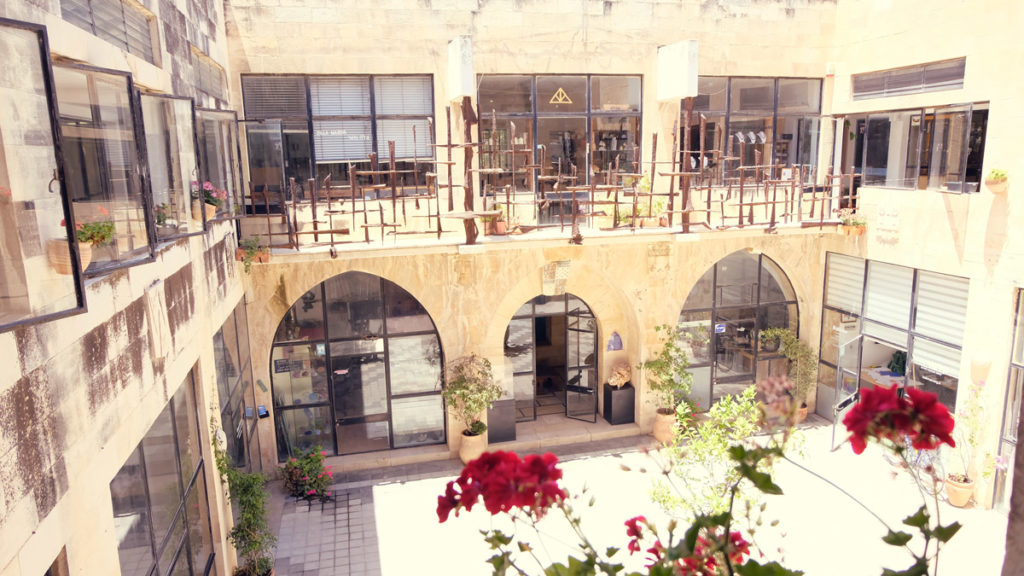 Construction of the building was completed in 1925, whereby it served as an eye clinic for the St. John Hospital. Each room was used as a clinic in which the doctors sat and received over a hundred patients a day. The Order of St. John was part of the Order of Hospitallers, which aimed to cure the sick as a way to get closer to God. As the order had no missionary goals, it was the only Christian hospital that Jews agreed to stay in. The courtyard features the heraldic emblems of the Order's knights who donated toward the construction of the building. Its architectural style is romantic-eclectic: It has a courtyard built in the style of a khan, Crusader arcs, and a modern and Arab ceiling, which purposely mixes building styles. The architect, Clifford Holiday, was a member of the British Association of the Applied Arts. During the War of Independence, the building was abandoned and became part of the no-man's land that separated the Western city from Jordan. Since 1970 it has served as a center for the applied arts, in which Jerusalem House of Quality artists operate workshops.